CCTV systems can dramatically increase the security of your property and keep your loved-ones protected. Calling a professional person can be a low-stress way to get your CCTV installer monitor system up and running. This blog post will explain to you the importance of hiring a CCTV installer and how to choose the right one.
Why you should hire an installer?
A CCTV installed by a professional person ensures total peace of mind. After assessing all your requirements, the installation company will provide you with the best CCTV system. Some DIY kits in the market can offer similar features but you won't get the best out of them. Even worse, they could actually be a security risk for you and your business.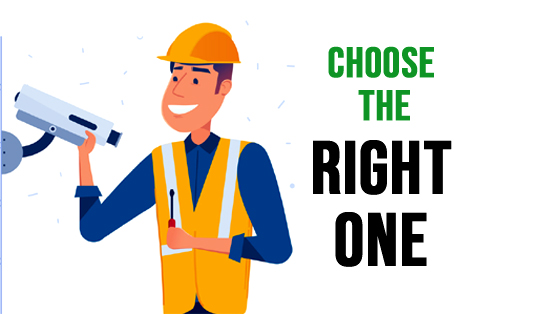 Hackers
With the advancement in technology, you can now access the video footage from your laptop or smartphone. This means you can keep an eye on your premises anywhere, anytime. However, the problem with this system is that it is connected to the internet. As home DIY kits are usually set up in an improper manner, your system may be vulnerable to attacks from hackers. Professionally fitted CCTV is less likely to be vulnerable because the security settings, such as port numbers and default passwords are changed after installation.
Picture quality
Imagine a burglar enters your home and steals some valuable items, such as jewellery or your laptop. You won't worry much at that moment because you had installed a CCTV system in the previous year. But when you play the video footage, the camera resolution is not proper and you can't see the burglars face. In such situations, a camera with a good picture quality can be really helpful. Professionally installed CCTV cameras could give you a lifeline – so you might see the burglars in the video footage and call for police assistance.
What should you look for when choosing an installer?
Modern CCTV camera systems have more in common with computers than the analogue systems that were very popular in the last decade. The CCTV installer should have the knowledge of computer networking for you to take full advantage of the features your surveillance system can offer.
Here are the three main types of surveillance systems:
Analog
Analog CCTV systems use the oldest technology and they are cheap as compared to other systems. Analog CCTV cameras are connected to the monitor using coax cable such as RG59. They are easy to install but the image quality is poor. For instance, it would take about 6 analog cameras to capture the level of detail of a single HD camera. If you need a high-quality image to identify burglars, then you may consider the other technologically advanced system. If the fitter only installs analog systems, you may want to contact someone else.
HD-TVI
HD-TVI stands for High Definition Transport Video Interface. The HD-TVI cameras currently support 720p, 1080p and 4K video resolutions. These cameras use the same coax cable used by analog CCTV cameras which makes it easier for people to upgrade to an HD system. They offer a range of 1600 feet from the DVR and are available at lower prices than many similar IP camera systems.
IP
Internet Protocol (IP) cameras are currently the best cameras that are available in the market. The images captured by an IP camera can be viewed from anywhere around the globe via the internet. These cameras are a versatile security solution and they require nothing more than a network connection. IP cameras don't need coaxial cables and they can also be relocated. These cameras are available both for indoor and outdoor use with the ability to pan either remotely or via operator command. They also have features like 360-degree fisheye lenses, pin-hole style cameras and thermal imaging.
Things that you should ask the installer
All manufacturers offer warranties on security cameras, but to take advantage, you will have to dismount the camera and send it to them. Meanwhile, as you wait for the repairs, your surveillance system isn't protecting you. Some of the best installers in the United Kingdom offer additional warranties that help you through the gap of waiting. You will always need a warranty on your security system because anything can happen.
You must ask the installer if they provide workman's compensation and general liability insurance. Having insurance will ensure that they are professional installers. Even professionals can slip while installing the cameras. If they are insured, you don't have to worry about being liable.
0
0
Adam Nash
https://www.ukcctvinstallations.co.uk/wp-content/uploads/2020/08/logo-2.png
Adam Nash
2019-12-24 13:06:42
2021-06-10 10:09:59
How to Choose the Right CCTV System Installer